Packages are an excellent way to ensure repeat clients and promote your services. A package is a type of concession and allows the client to pay up front for x number of visits for a service. For example, you may wish to sell your client 10 x laser treatments, and have the client save a small amount per visit by purchasing the package upfront.
Creating a package template
To create a package, head to the Setup > Packages page. Click 'Create package template' to get started.




When creating a package, you can give it a Name and a Description.


Once you've given your package a name, you can move on to constructing your package. Select a service from the dropdown menu (you can also search this list if you have a long list of services. Enter a Quantity (number of visits) that the client will buy as part of the package.


Once the quantity has been entered, the price will automatically update. You can apply a discount to the overall package price by entering a value in the Discount field. You can choose to apply a percentage discount or a dollar value discount. This discount will be equally applied across services in the package.



Note. Total price will includes tax (if any) from service(s) that make up the package.


Set up the validity of your package by choosing a start date for the package. You can choose either 'Time of issue', 'First use' or 'Specific date'. You can also set up an expiry date if relevant.


Once your package is set up, click Save.

Editing a package template
If you want to edit a package template, head to Setup > Packages and click Edit next to the package template you want to edit.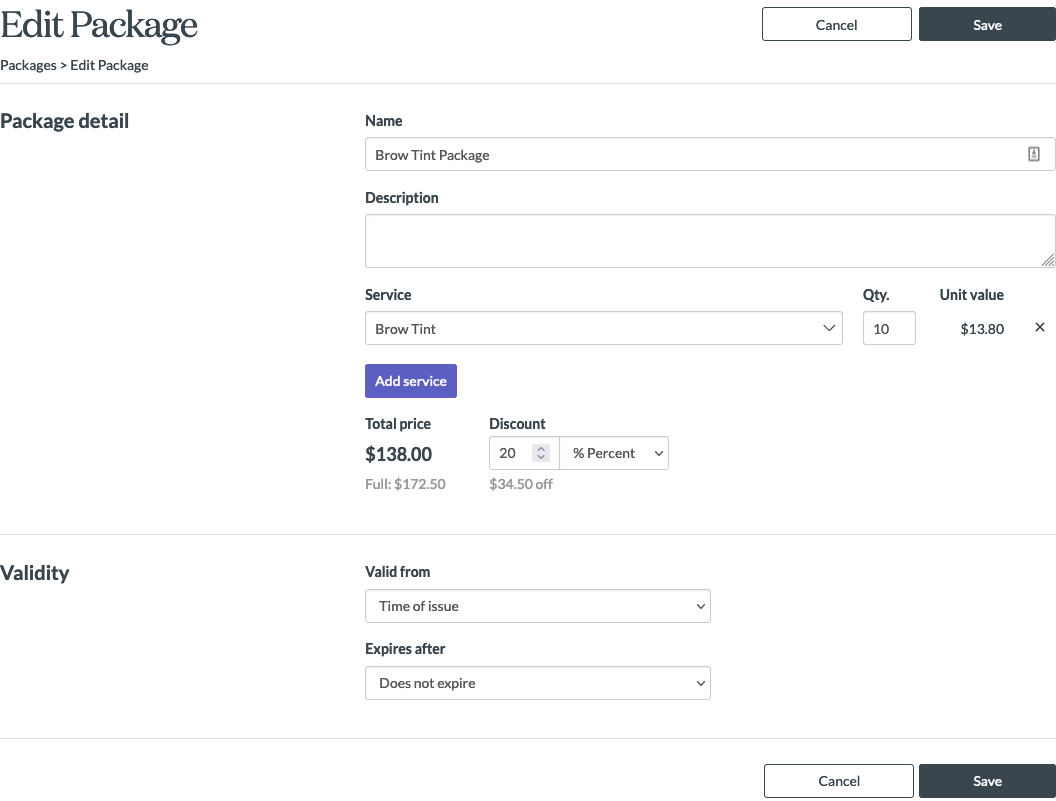 You can adjust any of the package template fields. Click Save when you're done.
Note: Adjusting a package template will not change any packages that have already been issued to customers.