Don't you just love options? We do too! That's why you've got three, YES THREE 😉 revenue protection options to choose from when you use TimelyPay!

In this help guide we'll take you through each of these options, why you'd use them, how they work and how to set them up.
1. Card capture / storing cards
When you turn on card capture at your business, your clients will need to store their card details in the online booking process when they book appointments online.This helps reduce no shows and late cancellations as the client has some skin in the game and knows that you could charge their card. This option is great for businesses who don't want to take deposits.
It's also great when your client forgets their wallet and you're able to charge their card! No more sly foxes 'forgetting their wallet' and getting out of paying you for your hard work!
Learn more about storing cards and cardless checkout here.
It is also a good idea to require clients to log in if your are using card capture. To remove the guest flow during online booking, go to the Online Bookings page and select Clients must log in under the Client Login settings: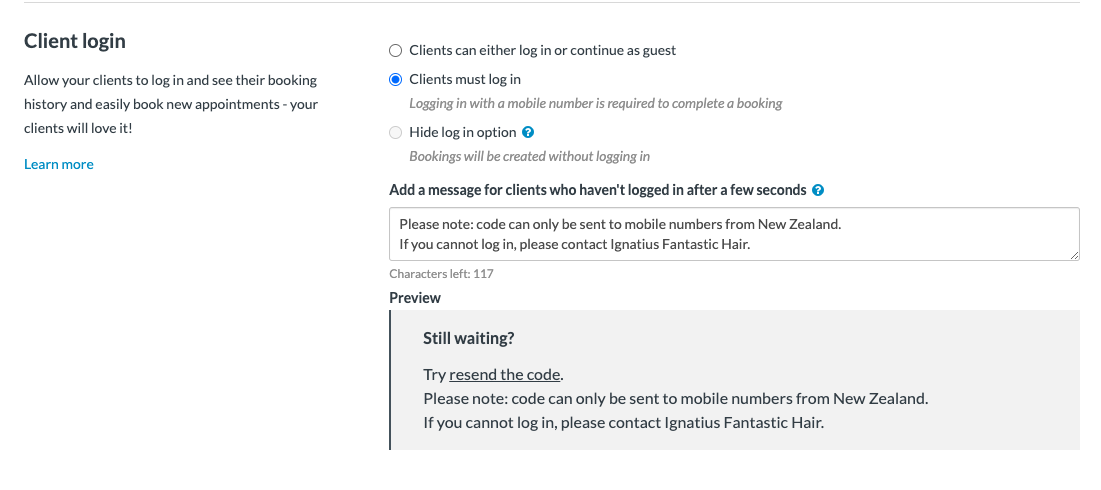 Alternatively you can ask clients to save their card by logging into your system and adding one to 'My Cards' You can direct clients to login using your client login links. Learn more about adding and managing cards in 'My Cards' here.
2. Deposits - most recommended
Online deposits are a great way that you can get real commitment from your client and ensure that you are paid for you time. In addition to requesting full payments for online bookings, a partial deposits can also be requested. You can also request deposits for appointments booked in salon.
Learn more about taking deposits here.
When customers are booking their appointment online they will be prompted to pay a deposit. Once the payment is completed successfully, the appointment is confirmed. When the customer arrives for their appointment, a manual payment can be applied to the invoice so that the customer only pays the difference of what's owed!
Deposits are great because they show your clients that you value your time. Plus they work in a more positive way; taking advanced payment rather than a process for penalising clients who don't show up to their appointment.
3. Cancellation Fees
If you don't fancy taking deposits and you only want to charge customers if they don't show, or if they cancel outside of your cancellation policy, then you'll love our no-show protection feature. This feature works hand in hand with a strong and strict cancelation policy, which your client will agree too, so that your client knows what will happen if they don't play by the rules.

Learn more about our cancellation fees feature here.
Businesses can set a fixed amount or percentage of their service for their cancellation fees. Businesses can charge cancellation fees in two ways. When you're cancelling an appointment, which will then remove the appointment from the calendar after it's been cancelled, or when you're editing an appointment, once you select Did not show as the cancellation reason, you can charge a no-show/cancellation fee.
Once a fee is charged, Timely will automatically send the client an email about it, and also give an option to the staff member to send an SMS, just in case they want to send them a personalised message about it.