This guide will step you through managing client login. We'll cover how to:
You can enable Client Login by heading to Set up > Online Booking.
Under the Client Login setting, select "Clients can either log in or continue as guest" or "Client must log in" to turn on Client Login and then click 'Save'.
Please note that if your business is using TimelyPay, the setting to Hide log in option will not be available, and an updated version of online bookings will be automatically enabled for you. Learn more about the Updated Online Booking.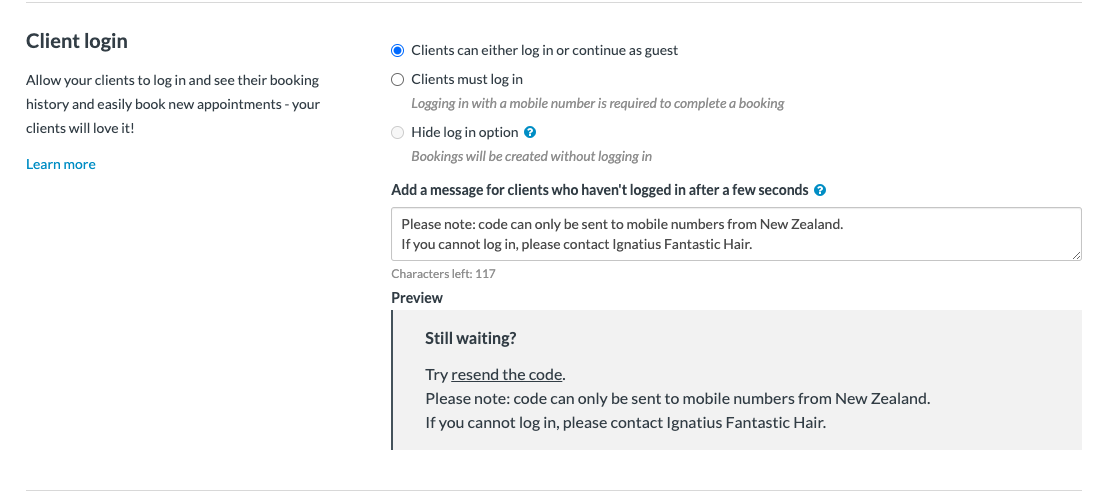 Cancellations and changes
Client Login will use your existing cancellation and change policy that you have set for Online Booking. You can review your cancellation and changes settings in the Online Booking section of Timely setup. You are able to enable or disable changes and cancellations, as well as set a cutoff time preventing changes to appointments within a set timeframe.
Rebooking
Client Login allows your clients to quickly rebook previous appointments. Just like cancellations and changes, we'll follow your settings and only allow services to be rebooked if they are permitted to be booked online.
Client SMS Numbers
Because Client Login uses codes sent via SMS, it's really important that you save unique numbers against your clients. If you make an appointment for a client who doesn't have an SMS number saved against them you will be prompted to add one. This is optional but remember that if no SMS number is added this Client won't be able to log in to view their information.
For clients that have the same SMS number, you can use your Duplicate Client report to identify any existing SMS duplicates. If you have a legitimate reason to have multiple clients with the same SMS number, such as a parent making appointments for their child we recommend you use the Phone Number field for the child's account.