To help you keep on top of your client communication and make things easier for you, we put all your messages in one place for easy management!
In Timely, you can send a whole range of messages to clients. Find out more.
In this guide, we'll show you:
How to view your messages
When a message is sent to a client, or they reply, it can be viewed on the
Messages
page. You can find the
Messages
tab in the main menu.
Underneath this heading, you have a few options:
If you allow clients to reply to SMS, there will be an SMS Replies option.
Email marketing (via MailChimp).
SMS Marketing (Available in NZ, AU, UK, USA only).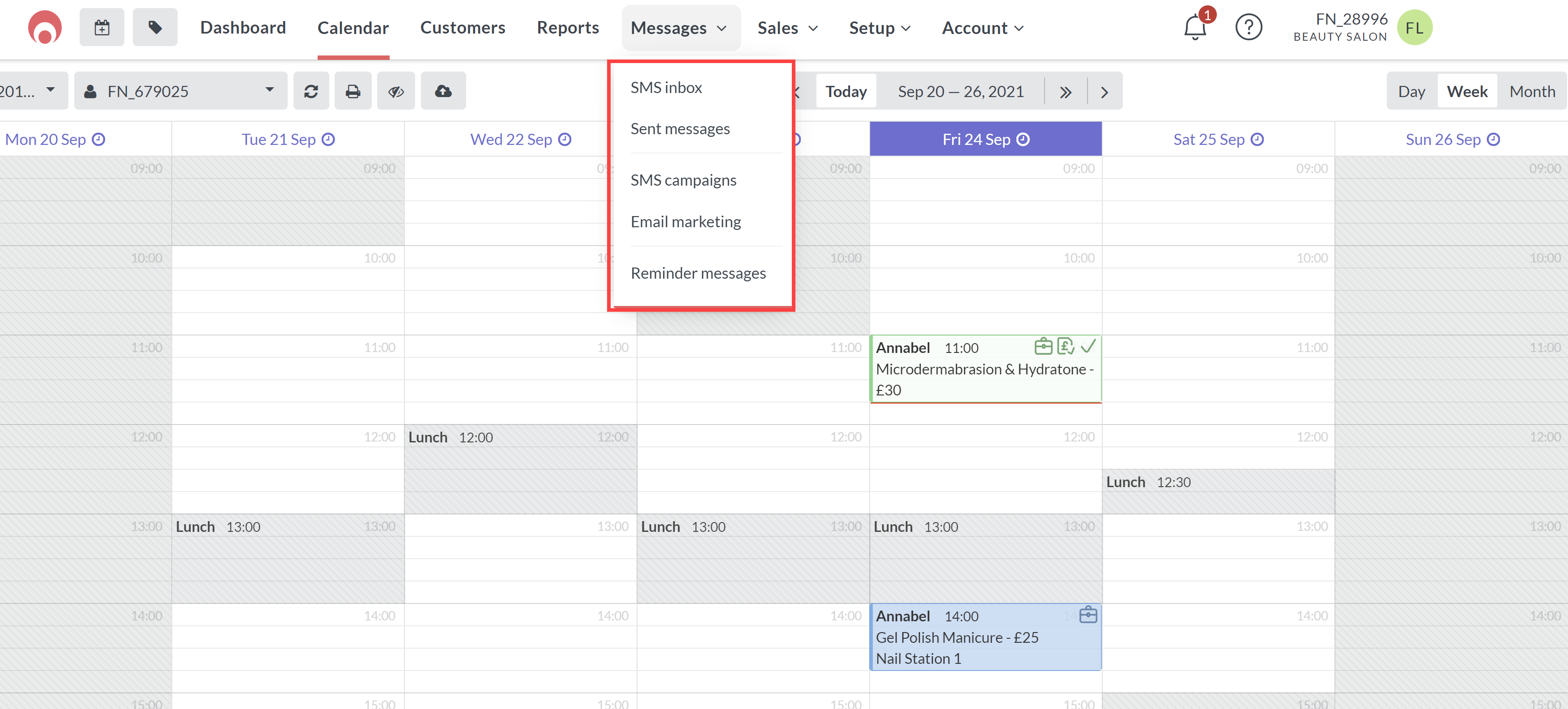 SMS replies

When you turn on SMS reminders and confirmations, you will be given the option to allow clients to reply to SMS messages.
If you have this setting switched on, then you will be able to view any SMS replies from customers directly from your Timely account.
Email replies from customers are sent directly to the account holder email address by default. If you have a separate address set up for your online booking notifications, then this email address will be used instead. You can update that under Setup > Staff notifications > Online booking notifications.
To view any SMS replies, you can head to Messages > SMS replies from the main menu.
This will include any replies from clients, so both confirmations and general replies will be shown here. This is a great place to check if you're wanting to find out which client's have/haven't confirmed their appointment.
There will be some basic information included for each message:
The date/time the message was received.
The SMS number and client that the message was from.
The booking it's related to (if it's a response to an automated reminder or notification).
If any actions are taken as a result of the reply (e.g. Appointment confirmed).
If you have any unread messages, these will be indicated by a green badge on the Messages tab. This will also show how many messages are currently unread: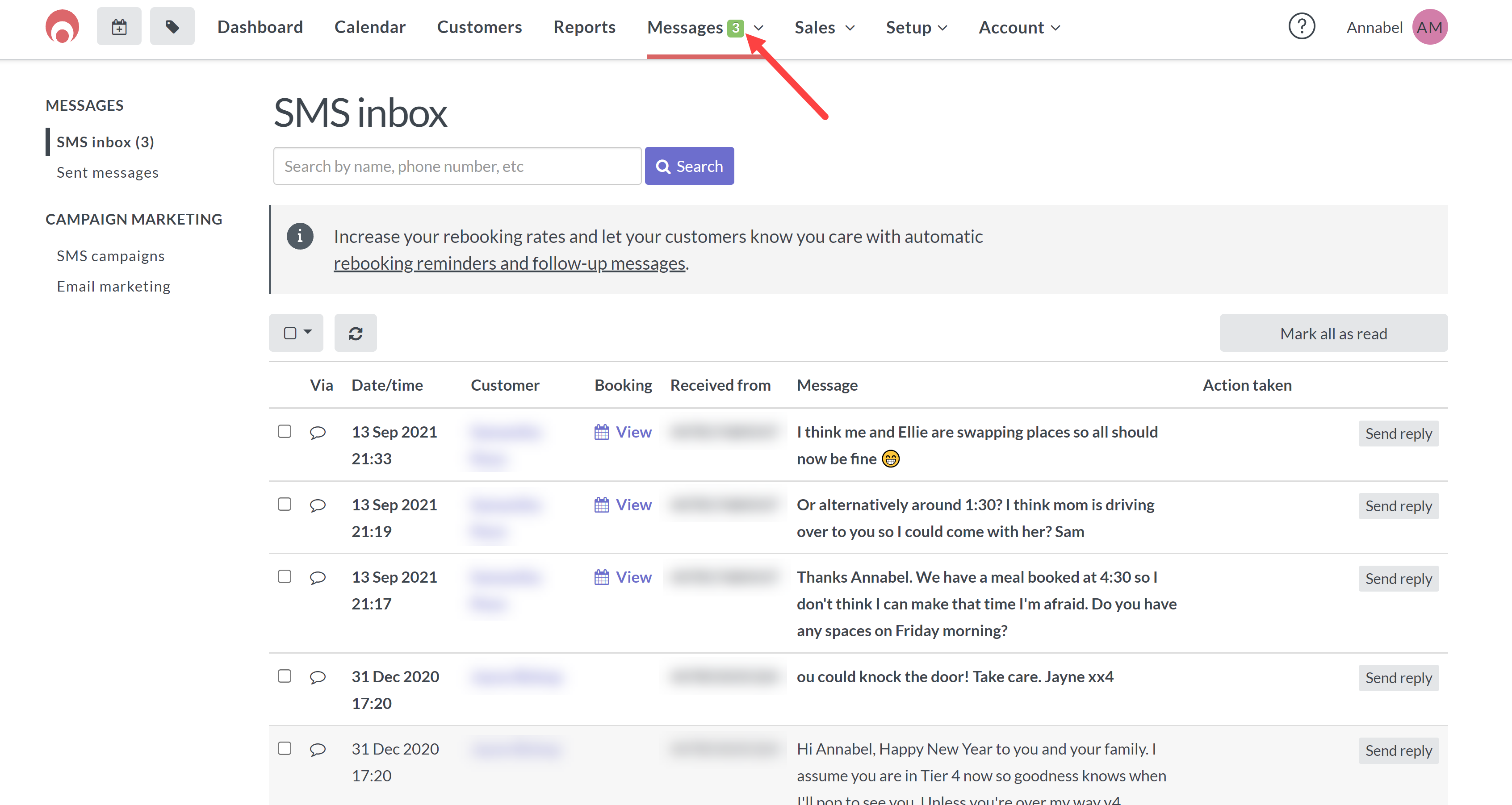 If you receive a lot of SMS replies from your clients, you can view more than the default 100 that are loaded by clicking the 'View more' button at the bottom of the page of messages.
Seem to be missing some replies?
We use a system called A2P (Application-To-Person) messaging to match your SMS replies with your Timely account. This has some limitations that could mean SMS replies sent by your clients might not reach your Timely account. Our team are working towards improving this system, but in the interim some of the common reasons a reply sent by your client(s) may not reach you are:
Your client has replied more than 7 days after your previous messaging to them - We can currently only match a reply to your business' Timely account if the client responds within 7 days.
Multiple Timely businesses have messaged the same client within the last 7 days - In situations where 2 or more Timely businesses message the same client, replies to either business may not be matched. When you message your clients, this is sent from an available "pool" of numbers at our SMS provider's end. Every business that uses Timely uses this same "pool" of numbers. Replies also come back to that pool, so matching a reply involving multiple businesses can become tricky.
Chain of communication has broken somewhere between the client's device, the network carrier, our SMS provider and Timely - As with any technology, things can happen, and SMS communication has lots of moving parts. The path from us to your client, and your client back to us, can fall over along the way. These instances are rare but things happen from time to time.
The reply could already have been read, and marked as archived, by another staff member/user in the Timely account - As we all know, things can be fast-paced and hectic in a salon, another member of your team could have already read and archived a reply from a client - whether deliberately or accidentally. If archived, this will not be visible to you.
If you have any questions about please reach out to our amazing Support humans at [email protected]
Sent messages
If you head to Messages > Sent messages then you will be able to see a list of all SMS and emails that have been sent to clients.
SMS and emails sent to staff are not included here.
Similarly to the SMS replies, you will be able to see a bunch of information relating to the message:
The Date/time the message was sent.
The client's name and contact details.
If there is a related booking, a link to the appointment.
The status of all message e.g. Pending, Sent, Error.
The content of the sent message. SMS are displayed in full and a link allows you to view the full email on top of the page.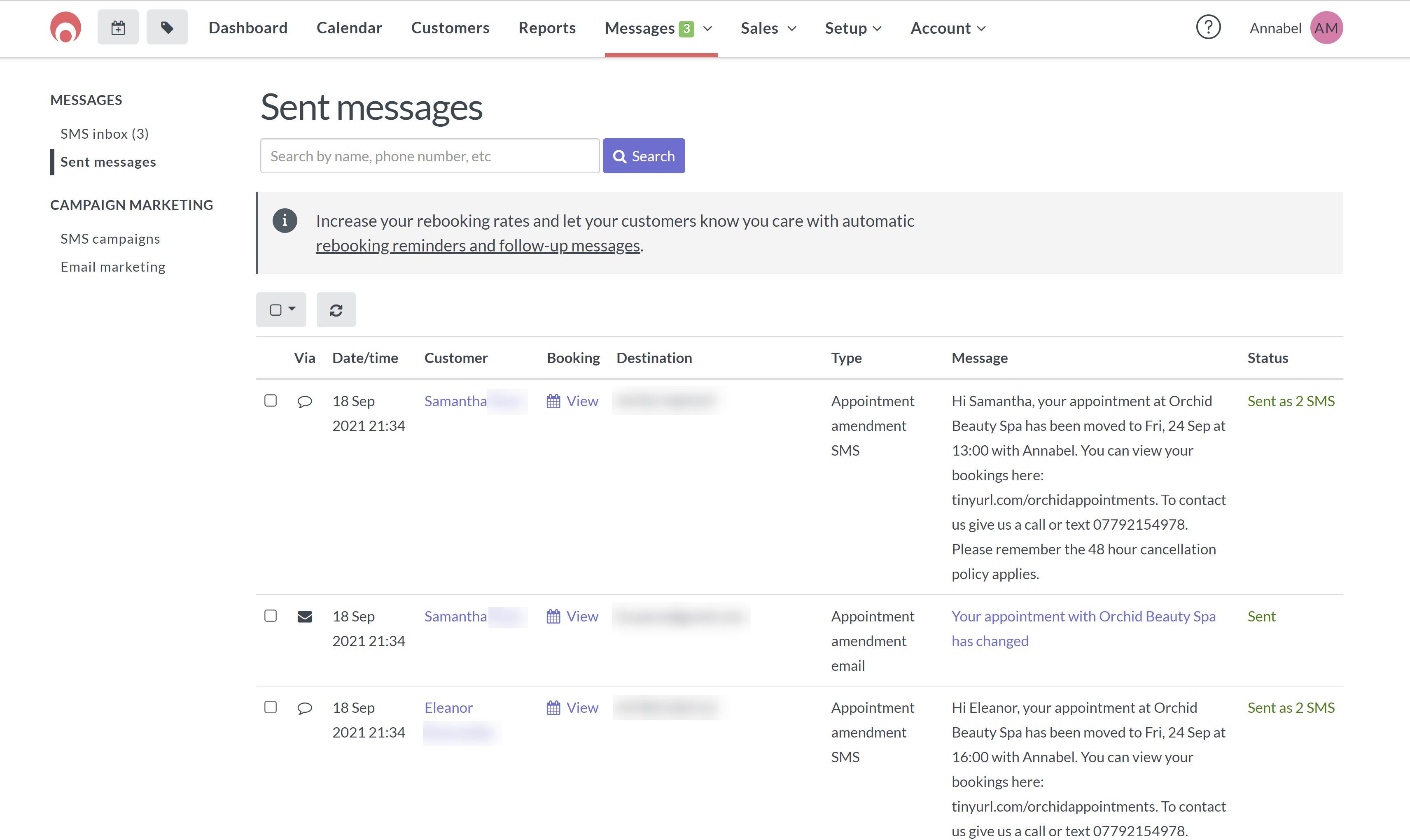 For both the replies and sent messages the
Refresh
button will refresh the messages on each respective page:
Message actions
Just like an email inbox, there are some other actions you can apply to a message:
Send a reply.
Resend a message.
Delete a message.
Pause a pending message.
Mark a message as read.
Mark a message as unread.
View a related booking.
View the client's record.
Check out our How to pause, delete and resend messages guide for more detailed instructions.